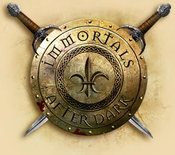 Welcome to the Immortals After Dark WikiEdit

a collaborative encyclopedia for Kresley Cole's bestselling Immortals After Dark series. This includes information on the books, characters, and settings from the IAD series.
Don't know what to do? Join the community! Help make this site better! Join the forum, or check out the blog!
Warning: This site, by its very nature, contains spoilers and other information that might influence your enjoyment of the Immortals After Dark novels. If this concerns you, we advise you to read the works of Kresley Cole for yourself before exploring any of the articles contained herein.
Replace this with the name of your topic
Edit
Write an introduction to your topic here, to explain to your readers what your topic is all about!
Latest activity
Edit